The tcteams.com blog
Occasionally, the tcteams.com crew can't wait for a formal announcement about what we're up to, so please be sure to check our blog for sneak peeks about the latest developments with our team, club, and league site solutions.
Click on a headline to read or hide the blog entry.
As the rainy season begins in the northern hemisphere, we thought you might appreciate an easy way to communicate the status of your game and practice venues to your members. Add the Venue Status widget to your club or league home page and update it by simply clicking the status box next to each of the practice and game venues that you have listed on your Directions page.
Log in as the club or league site administrator and go to your Home page. Click the "Add a widget" link and then select the Venue Status widget from the list (be sure to enter the description for your venues -- like "stadiums", "gyms", "fields", or "pitches").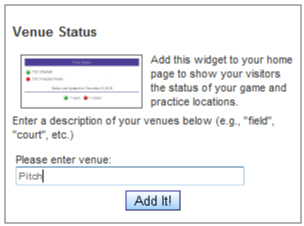 Edit the widget from your home page to update the status of each practice and game field that you have listed on your Directions page: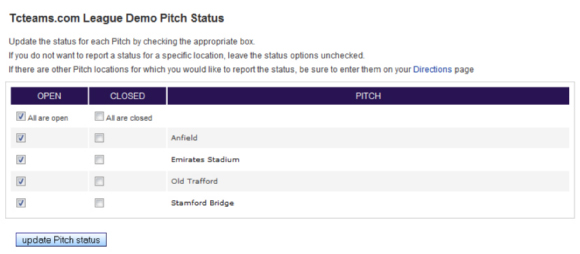 Your members and visitors will then be able to easily see if their games or practices are on for the day: