Concession Stand Volunteers
Volunteers run our organization
- from the board, to coaches, to field maintenance, to concession stands, and everything in between - without you this season doesn't happen.
Please click the link below to sign up for the concession stand.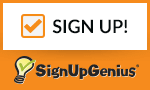 If there's any questions you may contact anyone on the board. For any last minute cancellations please contact Darlene Beard at 267 784 4861.
Again, thank you for volunteering to assist your child's soccer organization -
you truly make a difference!!
Volunteers Needed
Yes the general volunteers for the concession stand and field maintenance are always needed....but if you would like to get involved in another area of the club (sponsorship, marketing, board member, etc) the club could really use your help!!! Please email FallsSoccerClub@aol.com