Click on a headline to show / hide the entire article
---
---
---
---
---
---
---
---
---
---
---
---
---
---
CB South Titans Lacrosse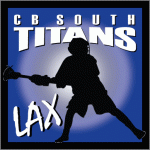 The CB South LAX Parents' Association is only as strong as it's members...please volunteer as we need YOU to help support the Team!
Welcome to CB South Titans Lacrosse
Contact us:
Varsity Head Coach - Mike Strayline
JV Head Coach - Chris Jacobsen
Parents Association:
President - Patric Jones
Vice President - Eric Humphreys
Treasurer - Trish Traverse / Sue Pearce
Secretary - Dave Fereno
Fundraising - Helene Dunn
Website Admin - Kim Cenci
CB SOUTH Boys Lacrosse Pictures
Check out the latest pics at our CBS LAX shutterfly site!

https://cbslax.shutterfly.com/
If you have photos of the Team please upload them to our site!
Schedule
Members - Log In for a Complete Schedule.
Results
No results have been posted.
VARSITY UPCOMING GAME SCHEDULE