UNIFORM PACKAGE
The Topton Soccer Club has adopted a new uniform policy. All travel team players (U9 and older) will be required to purchase a uniform package ($45).
Please be sure to bring your child to one of the registration sessions! We will have a club representative available for uniform fitting.
FAQ
Why after all these years do we need to purchase uniforms?
For years the club has purchased the travel teams uniforms every few years. There were a lot of complaints last year regarding the quality and appearance of the uniforms. So we listened and decided it was time to replace the current uniforms. When we researched, we found that we are one of the only clubs around to still offer uniforms to our players. Most clubs require uniforms to be purchased by the players every season. We researched several companies for packages and found the best suited for our club with respect to appearance, quality, and cost.
Can I keep the uniform when my child is done for the season?
Absolutely!
Do I need to purchase a uniform every season?
No. As long your child takes care of their uniform, they can reuse it for the next season. If a portion of the uniform is damaged, stained or lost, a replacement will be required and can be purchased through the club.
Can I hand my uniform down to another player?
No. Uniforms will be purchased through the club and numbers will be distributed based on age group. We can not have duplicate numbers on a team.
Can I buy additional pieces of the uniform?
Yes. Individual jersey's, shorts, and socks can be purchased through the club.
For additional questions regarding the uniforms, feel free to contact Michele Ambruster is the contact for uniforms. Her email is: mambruster@ptd.net.
Uniform package will include: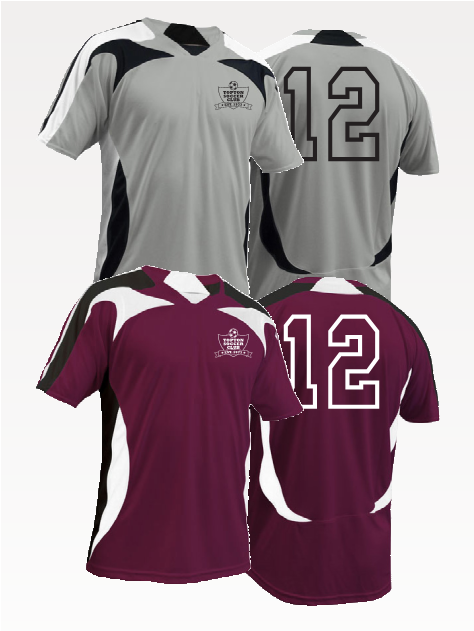 *1 Grey Jersey

*1 Maroon Jersey

*1 Pair of Black Shorts with White Highlights