Welcome To The Dance Page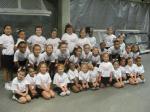 Signup for Wrestling and Dance
Complete online registration and pay with credit card go to wrestling on the left for Wrestling or Dance program. There is a $2 fee (to cover charges) for payment by credit card, but you are GUARANTEED a spot.
Practices will start in November. We are waiting on the school district for dates and location.
Dance program is LIMITED to 50 participants.
WRESTLING PROGRAM: $65
DANCE PROGRAM: $50
Pin City Mat Girlz With Redknight Dance Team @ Sixers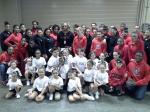 What a blast we had and an extraordinary experience! Special thanks to the RedKnight dance team for the invite.