Fundraiser time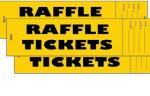 READING YOUTH ATHLETIC PROGRAM
Contact Football, Flag Football, and Cheerleading
2019 Fundraiser
Requirements: Each family (siblings only) must sell a total of 5 tickets or pay the $35 buyout.
Details:
This year we will be selling raffle tickets for some fantastic prizes! The raffle tickets are $10 each and each family must sell 5 per household.
What are we raffling off you ask? The prizes are as follows:
1st Place- 2 tickets to the Giants @ Eagles game 12/9/19.
1st Place-2 tickets to the Cowboys @ Eagles game 12/22/19.
Both include transportation to and from, and tailgate.
(Gold Glove tours)
2nd Place- 42" flat screen TV
3rd Place- $100 Visa Gift Card
4th Place- $50 Visa Gift Card
Two top sellers will be awarded!
You will have from Aug 13 until October 11 to sell the tickets. Football can turn them in to the concession stand in the Pendora Fieldhouse any night that we have practice. Cheerleading may turn them in to Danielle Means at the Geigle Complex any night that there is practice. If you sell your 5 and need more you can get them when you turn in the money and stubs. Please be sure that the stubs are filled out neatly and completely. We want to make sure the winner can be reached! The winners will be drawn, at last varsity home game at the PIT. The winners will be contacted the same day!
Any questions contact:
Readingyouthaa@gmail.com or Facebook Reading Youth Athletics

Back