Games this weekend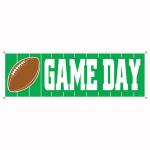 Important game time info for Saturday games 10/12 at The Pit field.
Flag games start sharply at 8AM.
JV Mighty Mite has been cancelled due to Wyomissing not being able to field a team due to injuries.
JV Mite game will start at 9AM right after the flag games.
JV Midget game will start at approx 10:15 to 10:30 AM....
Please make sure you arrive for your games 1 hr before your start time.
Sunday 10/13 Varsity games at the Pit
Mighty Mite 12:30pm start.
Mites 1:30 pm start
Midgets Approx 3:15pm start.
Please arrive 1 hr before your start time.

Back