Reading Youth Football Practice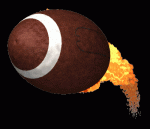 Reading Youth Football Practice for contact and flag.
Tues, Wed and Thursdays
Time: 6-8pm
Place: Pendora Park (1805 Forrest St, Reading, PA 19606)
Please bring your child a water bottle/container for refills.
1. Do NOT PARK IN FRONT OF ANY GARAGES! YOU WILL BE TOWED!
2. Clean up after your child/ children, and yourselves. Make sure all trash finds its way to a trashcan.
3. PARENTS STAY OFF THE FIELD. If you have questions pull a coach or volunteer aside AFTER practice.
4. REMEMBER EVERYONE HELPING IN ANY CAPACITY IS A VOLUNTEER. Treat them with respect.
It is extremely important to make sure you are here everyday we practice. We can't build without you being here! Please bring your own water bottle to start. More info to come out during practice. Hydrate, hydrate, hydrate!

Back