Passing of a Local Legend - Warren Almond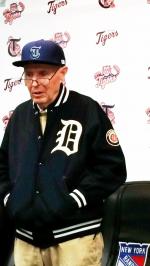 It is with deep regret to announce the Passing of Warren Almond (age 85).
As a former Detriot Tigers Scout, and co-founder of the Long Island Tigers (formerly Flushing Tigers),
Warren was a more than a Player's Coach, but a ture inspiration to all Players, Coaches, and Friends.
Warren passed, May 25th.
We Were Blessed to Have Him!

Back